The divorce rate among military members has reached an alarming rate over the past few years. In some groups the number of divorces has nearly doubled. Those serving our country deserve our best efforts at strengthening and protecting their marriages and family relationships. Chaplains, family services departments, and military leaders are finding proactive ways to help couples build strong marriages.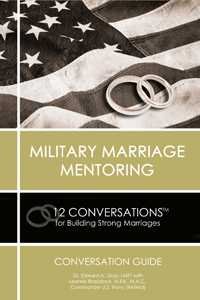 Military Marriage Mentoring: 12 Conversations provides an intentional plan for strengthening military marriages. The authors are Dr. Edward Gray, LMFT and Leanne Braddock, M.Ed., M.A.C., Commander, U.S. Navy (Retired). Since her retirement, Leanne has been working as a therapist. Dr. Gray is Professor of Counseling in the ministry department at Harding University Graduate School of Religion in Memphis, Tennessee. This program is an outgrowth of his 25 years of marriage counseling, his teaching, and his concern for the success of military families and marriages.
Marriage mentoring offers practical support to couples as they face the inherent stresses of military life and new stages in marriage. This program encourages both older veteran and active-duty couples to communicate with younger couples. Instead of a "marriage counseling" type of mentoring, this program simply uses a successful, healthy couple as a role model. They share their experience through their stories. The wealth of resources in healthy military marriages can be mobilized to help strengthen younger married members.
The program is designed with flexibility to meet the demands of military schedules and deployments. Mentoring can occur in small groups or one-to-one couple meetings over a twelve-week or twelve-month format. Couples develop a friendship over guided conversations about marriage. They share their wisdom gained through experiences. Their stories surface marriage strengths, joys, memories, differences, challenges, and problem-solving skills.
The couples meet in a relaxed atmosphere that they choose, perhaps enjoying snacks, a meal, or dessert. Couples discuss a topic about marriage with a corresponding list of suggested questions from the mentoring conversations guide.
Mentoring contact via email and phone when available can continue even when a service member is deployed. Mentoring before and during deployment can be instrumental in maintaining a strong marriage when deployment is over.
If you are interested in more information about implementing the Marriage Mentoring: 12 Conversations program, contact the authors, Dr. Edward Gray at Harding University Graduate School 901-681-9200 or email: egray@harding.edu, or Leanne Braddock, Commander, U.S. Navy (Retired), email: cdro5@midsouth.rr.com.